Accredited by ACCJC
De Anza College is accredited by the Accrediting Commission for Community and Junior Colleges (ACCJC) of the Western Association of Schools and Colleges, 428 J Street, Suite 400, Sacramento, CA 95814, 415.506.0234, an institutional accrediting body recognized by the Council for Higher Education Accreditation and the U.S. Department of Education.
The ACCJC announced in June 2018 that it had reaffirmed De Anza's accreditation for the full seven-year cycle through 2024, with no deficiencies or recommendations, after considering the findings of an evaluation team that visited the campus on April 26 and the information in a follow-up report the college submitted in March. The ACCJC previously reaffirmed the college's accreditation for 18 months in January, after an earlier evaluation team report that listed five commendations, three compliance requirements and two recommendations for improving institutional effectiveness.
2023 Institutional Self-Evaluation
De Anza is beginning the process of producing a comprehensive Institutional Self-Evaluation Report, as the college enters year six of a seven-year accreditation cycle. Visit the 2023 Institutional Self-Evaluation webpage for an overview of that process and an expected timeline.
Read more about the self-evaluation process
More Information and Reports
For copies of annual reports to the ACCJC and other documents, please visit the Related Documents webpage.
To learn about the 2017 self-evaluation and the ACCJC evaluation team visit in October 2017, please visit the Accreditation 2018 webpage.
For information related to the 2011 self-study and the 2012 reaffirmation of De Anza's accreditation, along with subsequent reports, please visit the Accreditation 2012 page.
---
---
2022 Distance Education Updates
ACCJC letter informing the college that a Substantive Change Review is not required for 15 programs in which more than 50% of courses are now offered online – Nov. 21, 2022
ACCJC letter informing the college that a Substantive Change Review is not required for seven programs in which more than 50% of courses are now offered online – Sept. 20, 2022
---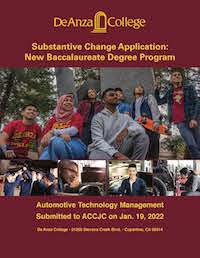 ---
2022 Substantive Change Application
---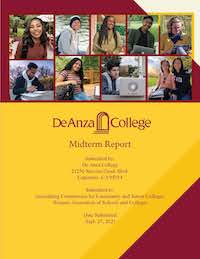 ---
---
2020 Distance Education Update
---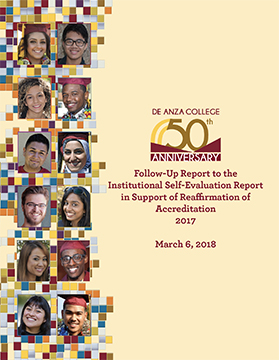 ---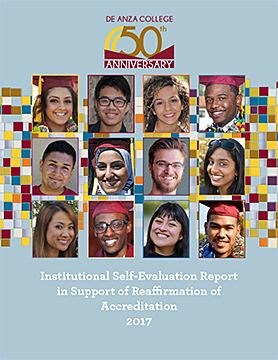 ---
2017 Institutional Self-Evaluation
---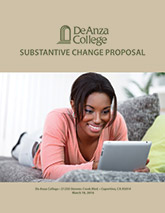 ---
2016 Substantive Change Proposal
For questions or comments
Please contact Mallory Newell, De Anza's Accreditation Liaison Officer, at 408.864.8777 or newellmallory@deanza.edu
Related Pages