Frequently Asked Questions
What does APE do?
The APE program is designed to provide individuals with disabilities the opportunity to obtain the benefits of improved physical fitness, where participation in a non-adapted physical education setting would be not be the same.
What does APE provide?
APE provides on campus and online courses to meet the fitness needs of students with disabilities include exercise in the areas of:
Total Adapted Fitness
Adapted Cardiovascular Training
Adapted Total Strength
Adapted Aerobic Swimming
Adapted Aquatic Exercise
Curriculum is designed to accommodate individual programs as well as appropriate group instruction. Search our class listing
What are the classes like?
Individuals of all ages and backgrounds participate
Most classs enroll up to 15 or more students
There is a wide range of disabilities represented in classes
Each student engages in a program of exercises based on his/her own individualized plan, with minimal group participation
What are Synchronous and Asynchronous Classes?
Synchronous Courses
Are live online courses that are conducted in real-time. The instructor and students are together in the same session, which will begin and typically end at a fixed time.

Asynchronous Courses
Are made up of prebuilt course components, allowing students to complete them at the time and pace of their choosing.
How are classes scheduled?
APE classes follow the De Anza College's quarter system calendar. Each quarter lasts for (12) twelve weeks, except for an (8) eight week long summer session.
Fall Quarter
12 weeks - Late September to mid December
Winter Quarter
12 Weeks - January to end of March
Spring Quarter
12 Weeks - Early April to end of June
Summer Quarter
8 Weeks - July to late August
Classes that meet three times a week are 50 minutes in length and classes that meet twice a week are 1 hour and 15 minutes. Students enroll for one quarter length session at a time. Those who want to continue in the following quarter session's classes, must re-enroll quarterly. Visit the academic calendar

What are the enrollment fees?
Fees are set by the California state legislature. Your fees will vary according to your residency status and other factors. All fees are subject to change without notice.
Basic Fees for All Students

Student Body Fee: $10 per quarter
Campus Center Fee: $17.50 per quarter
Health Services Fee: $17 per quarter
Registration Support Fee: $1.50 per quarter
Student Representation Fee: $2 per quarter in fall, winter and spring; no fee during summer session.
SmartPass (formerly Eco Pass) Fee:


$7.75 per quarter for fulltime students
$6.75 for part-time students taking 6 to 11.5 units
$5.75 for part-time students taking 0.5 to 5.5 units
How do I repeat APE Courses?
A student with a verified disability enrolled in a special class may request to repeat the special class. The decision to approve or deny additional repetitions is based on the validity of the declared special circumstances. The approval period is only effective for the quarter and year listed on the front of the form. When an approval period expires, the student must re-apply if he/she believes that one or more of the special circumstances are still valid and the student wishes to continue enrollment in the special class in question. If the request for repetitions is denied, the explanation and comments of why the specific DSP&S Department faculty and staff believe the special circumstances declared by the student are invalid or no longer apply, must be listed on the form.

How to Submit Petition for Course Repetitions
Login to the college MyPortal
Click Apps and locate applications for Students
Click Adobe Sign Student Form
Listed under Student Webforms
Click title of link to form: De Anza Petition for Course Repetitions (DSPS - Adapted Physical Education)
Click Continue to accept the Adobe Terms of Use at the bottom
Select the quarter, year, student name, and 8-digit Campuswide ID (student ID)
Enter the 5-digit Course Registration Number (CRN) and PEA Course Number
Declare that an additional repetition is essential: B) List classes: KNES-19AX
Sign the document electronically and submit
How do I apply for Financial Aid?
The "California College Promise Grant" is the new name for what used to be called the Board of Governors (or BOG) Fee Waiver. This program waives enrollment fees for eligible community college students. But you must show academic progress to maintain your eligibility.
How does a student apply and register?
We have made it easy for you to register by following the steps on the APE registration page.
Important Tips:
Follow the steps on How to Register for:

Visit APE Registration page
What are the student learning outcomes?
Within the context of a student's disability and with the appropriate accommodations, the student will be able to demonstrate that his/her physical and psycho-social well-being has been positively affected through their full and effective participation in the Adapted Physical Education program.
What are the parking fees?
Parking fees are waived under a temporary policy, students can park free on campus during the 2022-23 and 2023-24 academic years, without purchasing a parking permit. (Students should continue to park only in spaces designated for students.)For questions, contact campus police.
Parking fees are the same for all students, except for a discount provided to students who receive the California College Promise (Board of Governors) Fee Waiver. The quarterly decal must be purchased online each quarter, and a separate decal is necessary for summer. You are eligible for a refund only if you return the unused decal to the campus police substation, on the lower level of the Campus Center, by the second Friday of the quarter (first Friday of summer session), or if all your classes are cancelled by the college.
Quarterly Parking Fees
Automobiles (cars or trucks): $26.65
Motorcycles or mopeds: $15
Summer Parking Fees
Automobiles (cars or trucks): $20.00
Motorcycles or mopeds: $15
Annual Parking Fees
All vehicles: $90 if purchased at the start of summer session; $70 if purchased at the start of fall quarter; $50 if purchased at the start of spring quarter. This fee is nonrefundable.
Where do students get dropped off?
APE students must park their vehicles in the college parking lots. The most convenient location is Lot C on the east side of campus off Stelling Road, near the entrance to the pool and Physical Education complex. Students with severe mobility problems that makes walking or wheeling from Lot C to PE 13 impossible or inadvisable may use the drop-off access road behind gyms PE1 and PE2. After dropping-off the student, the vehicle must then be parked in Lot C during the student's class period. This area is also used by paratransit vehicles.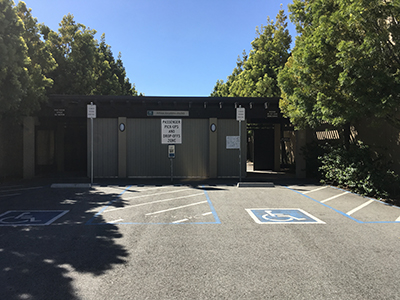 PE 13 Passenger Pickup/Dropoff Zone
Between gym buildings PE1 and PE2
Important Information
Vehicles are not permitted to remain in the loading area or in the access road area during classes.
Please do not leave your vehicle engine running.

How do I request accommodations?
A student with a verified disability can work with a DSS counselor at Disability Support Services to request accommodations. Together they identify academic goals and the course patterns to acheive them, develop and implement an individualized list of accommodations and services that are appropriate to the goals and address specific educational limitations. In addition, they also monitor academic progress, identify additional on or off campus resources and adjust goals or accommodations as needed.
After your DSS application and counseling intake appointment is complete, please use Clockwork to request your approved accommodations. Clockwork is a complete scheduling and data management system for our Disability Support Programs and Services, streamlining via Myportal and simplifying processes for accommodation requests. You will use ClockWork to send your accommodation letter to your instructor(s) who will complete your request.
How to Request Accommodations
Step 1: Login to Myportal
Step 2: Select Apps
Step 3: Select ClockWork
Step 4: Select ClockWork DeAnza
Step 5: Select Accommodations Letter
Step 6: Choose the correct term. Click Request for the class you need the accommodations letter
Step 7: Select the Courses and Request Your Accommodations. Check all that apply. Indicate whether your accommodations are correct or need to be changed. (Use Optional Note section to clearly list the additional accommodations requested.)
Step 8: Agree to Terms and click Submit
Step 9: Download accommodation letter for each course by clicking Get Letter.
Do you provide mobility services?
A wheelchair-accessible courtesy shuttle service is available to students with temporary or permanent disabilities that affect their mobility. Transport to classrooms on a regularly scheduled basis or for special appointments may be arranged. The shuttle operates between major campus buildings and is available Monday - Friday from 7:30 am - 4:30 pm.
How do I schedule a tour to APE?
Prospective students are welcome to visit APE during class time. Please submit your request at least 72 hours in advance to the proposed visitation date. A staff member from APE will respond to your email with confirmation.

How do I file a complaint?
If you have personally experienced harassment, sexual harassment or discrimination – or if you think you may have experienced such conduct and would like assistance – you can contact the college Title IX coordinator to discuss your concerns. You can also learn how to file a complaint and find a link to the online complaint form by visiting the Title IX website.