Support the Jean Miller Scholarship
This scholarship fund is a beautiful reminder of Jean Miller's legacy and the money has literally put books in the hands of our most struggling students. Anything you can give will be appreciated.
Thank you so much from the FYE program!
---
De Anza College's First Year Experience (FYE) program was awarded an honorable mention in the 2011 Exemplary Program Awards, presented by the California Community Colleges Board of Governors.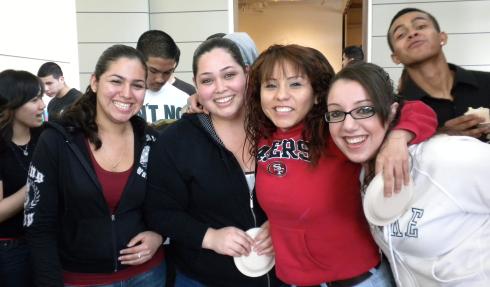 FYE, which links academic support and student services, was singled out for its student success rate (passing classes with a C or better) of 84 percent.
FYE is a learning community that integrates multiple fields of study and community engagement in a yearlong program, which begins with the Summer Bridge program, designed to help high school students transition to college. First-time, first-generation college students whose English placement is in EWRT and READ 200 or 211 are eligible for FYE. Students must commit to participating in the FYE learning community for the full academic year.
The Board of Governors' awards recognize programs that show evidence of overall success, contribute to faculty engagement, respond to the needs of the faculty and the college, and demonstrate support of the community college mission. The programs are also scored on how they could be used as models for other community colleges.