Come to the Umoja Open House!
Umoja Stories
We're highlighting several De Anza students and faculty members as part of Black Student Success Week. Read about these amazing individuals on our Umoja Stories webpage.
Join Us in Community
The Umoja program and Student Success and Retention Services will be hosting a special open house event as part of Black Student Success Week.
Wednesday, April 26: 11 a.m. to noon
Fireside Room, Campus Center
Meet our students in the program and learn from them how Umoja and other campus resources have supported their success! You can also
Participate in interactive activities to understand our Umoja traditions!
Enjoy light refreshments and music!
Engage in conversation about the importance of Umoja to De Anza's community!
We look forward to seeing you there! (See more activities for the week, listed below.)


Black Student Success Week: April 24-28, 2023
Vision to Action – Building Systems and Structures for Black Student Success
Everyone is welcome to attend these webinars exploring successful approaches to ensuring that Black and African American students succeed at California community colleges. Each day will feature a noontime discussion of important strategies for supporting students, and a 5 p.m. session focused on resources available to students.
Monday, April 24
Noon-1 p.m. – We Are Not a Monolith
This session will explore the various intersectional identities of Black students in California community colleges. The Black student experience is not monolithic as many students may be socio-economically disadvantaged, former foster youth, or justice-impacted.
5-6 p.m. – Basic Needs Workshop
Receive information on food, emergency housing, transportation, and academic resources and services to help you succeed.
Tuesday, April 25
Noon-1 p.m. – Supporting Success Through Racially Equitable Policies
This conversation will discuss immediate opportunities to support Black student success through state policy, explore policies passed in recent years and their impact on closing racial equity gaps, and bring in the practitioners, students, and community partners directly impacted by such policies.
5-6 p.m. – Meet the Employers
Graduating high school or plan to return to college? Learn about the 200+ high paying and in-demand career education programs that can lead to a degree at a California community college. Hear directly from hiring employers about partnerships with our colleges.
Wednesday, April 26
Noon-1 p.m. – Transition to Workforce and Livable Wages
Students say their top reason for going to college is to get a better job. Now more than ever, community colleges must support students with their educational journey and beyond. This session will focus on strategies to help Black students successfully transition into the workforce with livable wages.
5-6 p.m. – Community College Day
Whether you're a high school student or an older student looking to return to college, get information on why community college is a smart option and see how you can make your dreams a reality.
Thursday, April 27
Noon-1 p.m. – Programming for Black Student Success
A panel of practitioners across the state who have been successful in promoting Black student success will discuss their best practices, lessons learned, and a practitioner's toolkit will also be shared.
5-6 p.m. – Cash for College Workshop
The California Community Colleges is partnering with the California Student Aid Commission (CSAC) to help current and prospective students of all ages identify the types of financial aid available and receive assistance completing the FAFSA.
Friday, April 28
Noon-1 p.m. – Diaspora Dialogues: Educators' Reflections From Ghana
This session will explore the reflections from our faculty members who attended the historic all-African Diasporic Summit with A2MEND. This reflection is an opportunity for faculty to share their respective experiences from a personal and professional perspective. Faculty will share their introspective reflections as well as how they have adapted their experiences into their curriculum and pedagogy as practitioners.
5-6 p.m. – Financial Literacy Workshop
Learn top money management tips and how to make your money go further. This session will help students understand how to better manage financial aid, finances, basic budget principles, how to keep good credit, avoid financial pitfalls and graduate debt free.
---
Previous Events
HBCU Transfer Guarantee Workshop: Nov. 15, 2022
HBCU Transfer Guarantee Workshop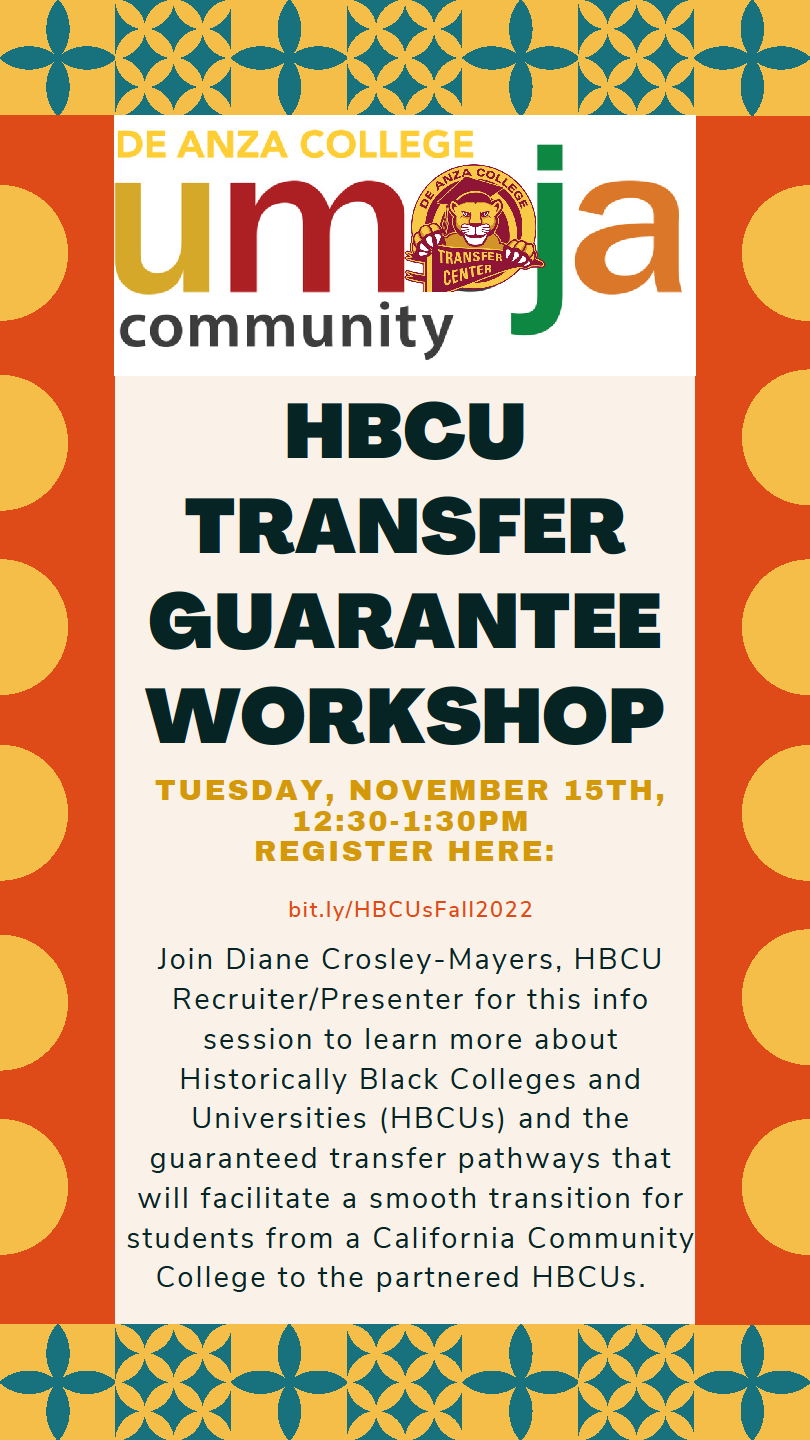 Join Diane Crosley-Mayers, HBCU recruiter/presenter for this online info session to learn more about Historically Black Colleges and Universities (HBCUs) and the guaranteed transfer pathways that will facilitate a smooth transition for students from a California Community College to the partnered HBCUs.
This event is hosted by the Umoja program in partnership with the Transfer Center. All students from both De Anza and Foothill are invited to attend.
Black Student Welcome Day: Nov. 1, 2022
Black Student Success Week: April 25-29, 2022
Black Student Success Week is an annual campaign that encourages everyone across the California Community College system to examine the resources and programs that support Black student success. This year's theme is "A Vision for Black Student Success: Creating a New Landscape to Succeed." See the Black Student Success Week Linktree for additional information about activities.
Celebrating Student Success
In celebration of Black Student Success Week, our Umoja program highlighted a De Anza Umoja student for every day of the week, April 25-29. Check out their stories!
Black Student Success Week is organized in partnership with A2MEND, Umoja Community Education Foundation, The Campaign for College Opportunity, The Education Trust-West, the Equity Avengers, The RP Group, the Academic Senate for California Community Colleges, the Community College League of California, the California Community Colleges Chancellor's Office, the Foundation for California Community Colleges, and the Student Senate for California Community Colleges.
Moments in the Shave Room: Nov. 18, 2021
Students, faculty and classified professionals are invited for a special event focusing on men's health hosted by the Black Faculty, Staff and Administrators (BFSA) Network. Topics of discussion will include prostate and testicular health as well as men's suicide. This event is hosted as part of Movember, No-Shave November and Men's Health Month.
Black Student Union Meeting: Dec. 9, 2020
Wednesday, Dec. 9, 2020
3-4 p.m.
Join us virtually and be a part of bringing back Black student representation at De Anza College! Sign up and learn more about this much-needed club.
Help create and express your independent voice to eliminate anti-Blackness in the community college system!
The BSU will offer opportunities to learn leadership skills, participate in potential internships, design and conduct club activities, and attend conferences to network with other students driven to amplify the Black student voice!
African American Male Summit: Oct. 22, 2020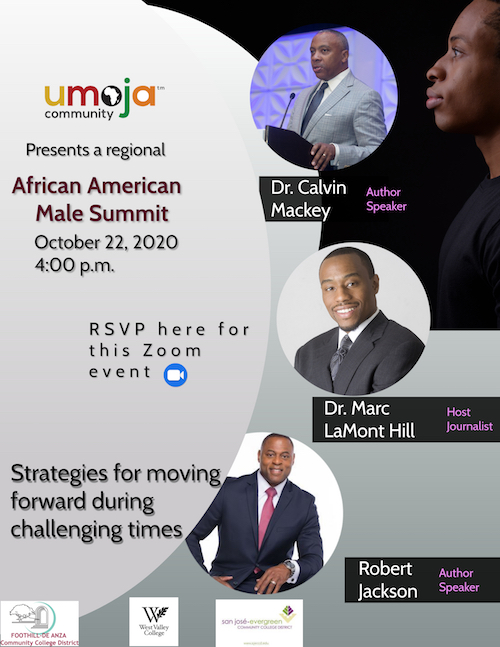 Learn strategies for moving forward during challenging times with these exciting speakers
Dr. Calvin Mackey, author
Dr. Marc LaMont Hill, journalist
Robert Jackson, author
This event is co-sponsored by the Umoja programs at De Anza College, Evergreen College, Foothill College, San José City College and West Valley College.